Patient has 72 years old. He has had diabetes for over 25 years and was taken care with disorganized treatments of anti diabetic as (BID) until last year. Patient realized neuropathy in the bottom organ as injury appears in his right toe and palm. During this time he was cured with insulin treatments. His leg injury has not being cured despite of diabetic common medication methods, it is growing everyday and will cause amputation of his 3,4 and 5 fingers.
Necrosis, gangrene and infection develop to toe and his palm.
He was going to being amputated in his knee side, he release from mentioned clinic because of his dissatisfaction.
He was referred to Bahar clinic independently on 04/09/2009.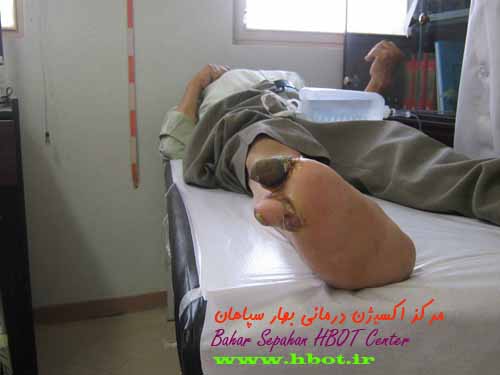 After preliminary check up and file preparation, was being treated by HBOT after receiving full consent. 3 sessions passed, infection and awful odor removed from injury…………….
Passing 10 sessions, his feeling on his foot palm and toes backed, at this time his toe was being amputated.
Moreover, HBOT sessions were conducted daily and injury became healed.
As the second round, we continue HBOT sessions with patient, his second foot finger also being amputated and its skin was being used to cover palm injury.
Continuing HBOT sessions and advanced bandaging methods, injury healed completely. After 43 sessions completed, 2 finger amputations, with full consent he was released from clinic.
translated by: tmense group